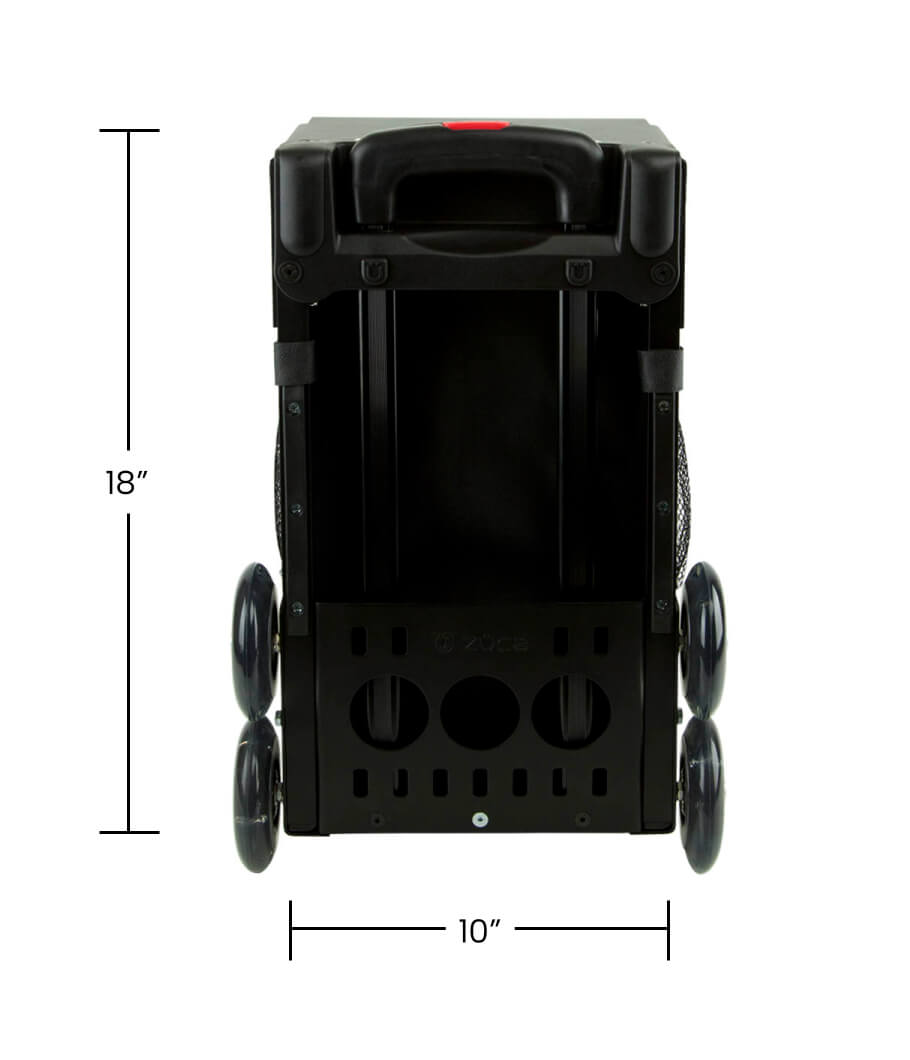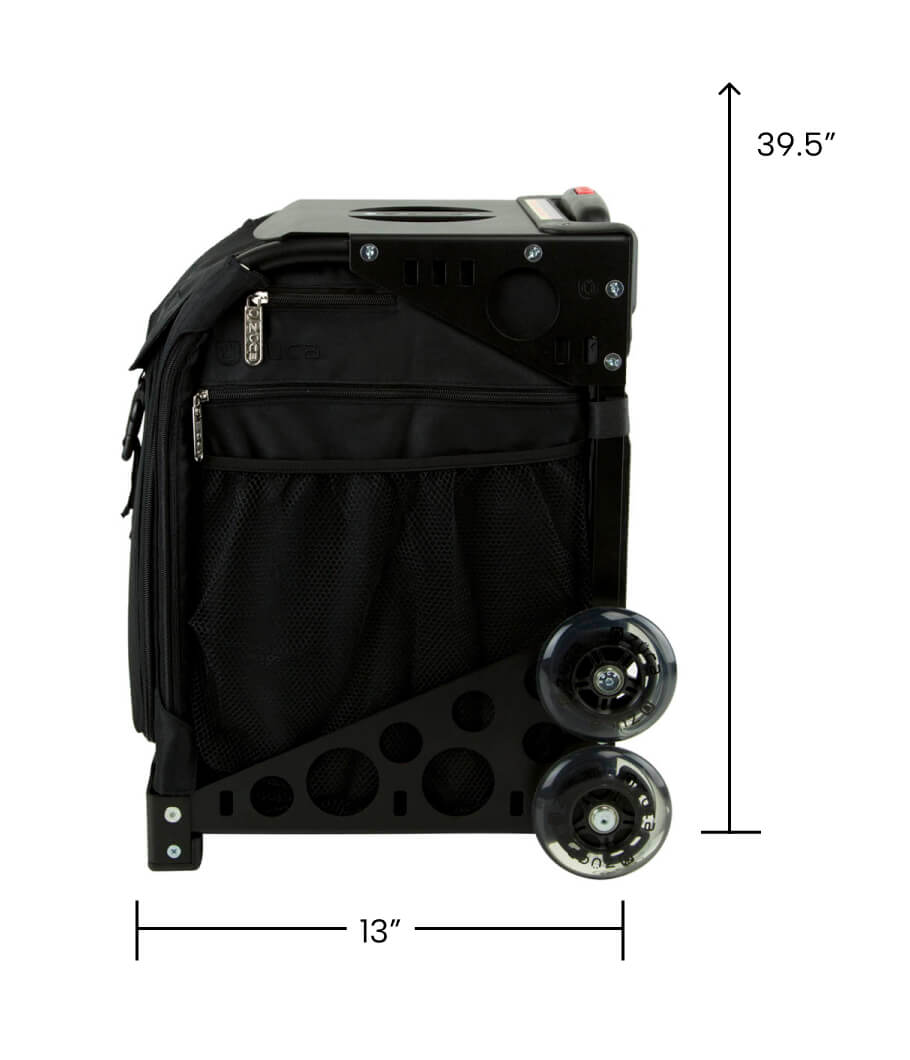 Build My Zuca - Sport Model
---
Frames with Flashing Wheels:
Frames with Non-Flashing Wheels:
Note: Personalization adds an additional 15 business days to normal order processing time (not including weekends and holidays).

Have a question? Feel free to contact us.

*December 6th deadline for embroidery orders to receive by Christmas. Any personalized order placed after this date will be delivered after the holiday.
Build a ZÜCA that's truly yours. Choose an insert and frame to showcase your personal style, and then get rolling.
ZÜCA warrants that your product is free of defects in materials and craftsmanship. Read our full warranty policy here.
ZÜCA will accept returns or exchanges of unused product purchased within the last 30 days. Read all details here.
Best in Class Style & Function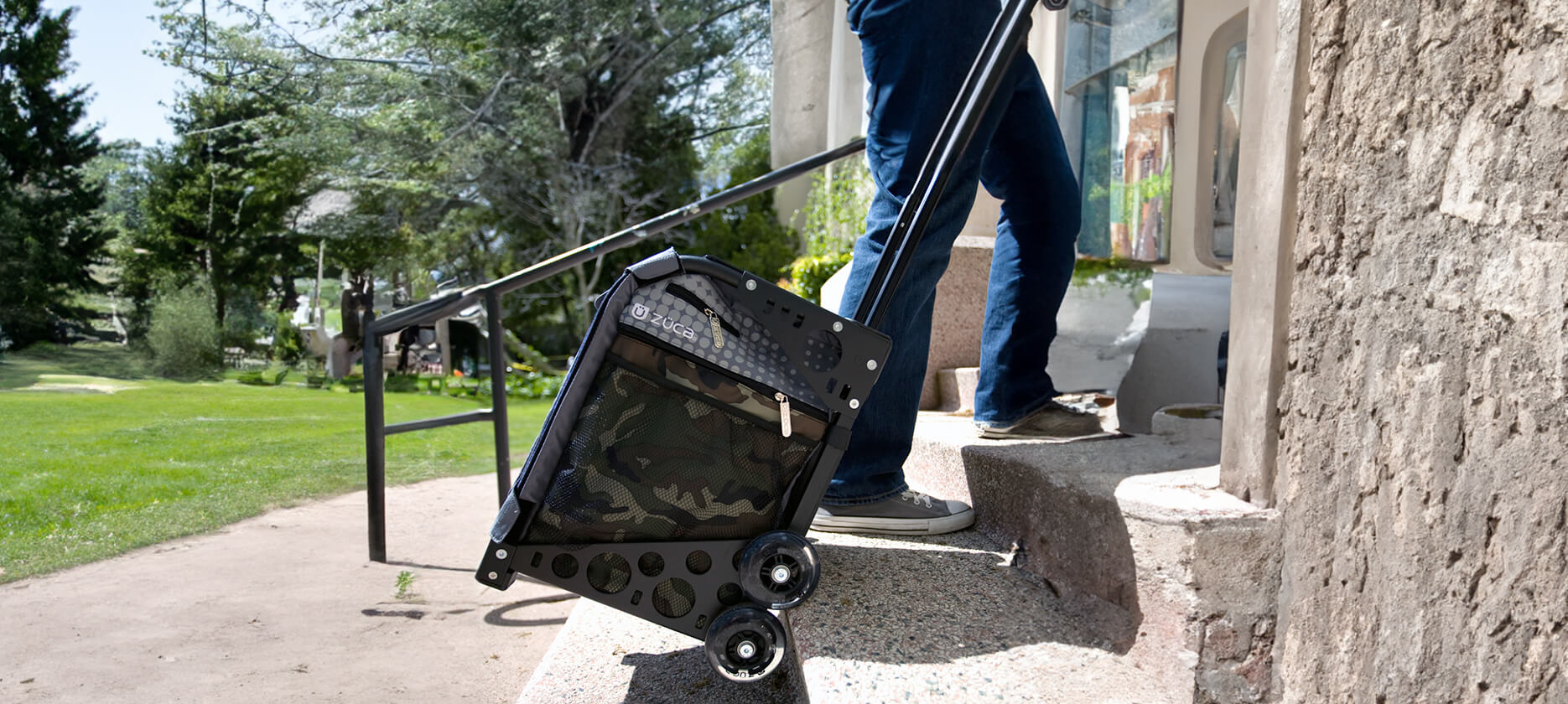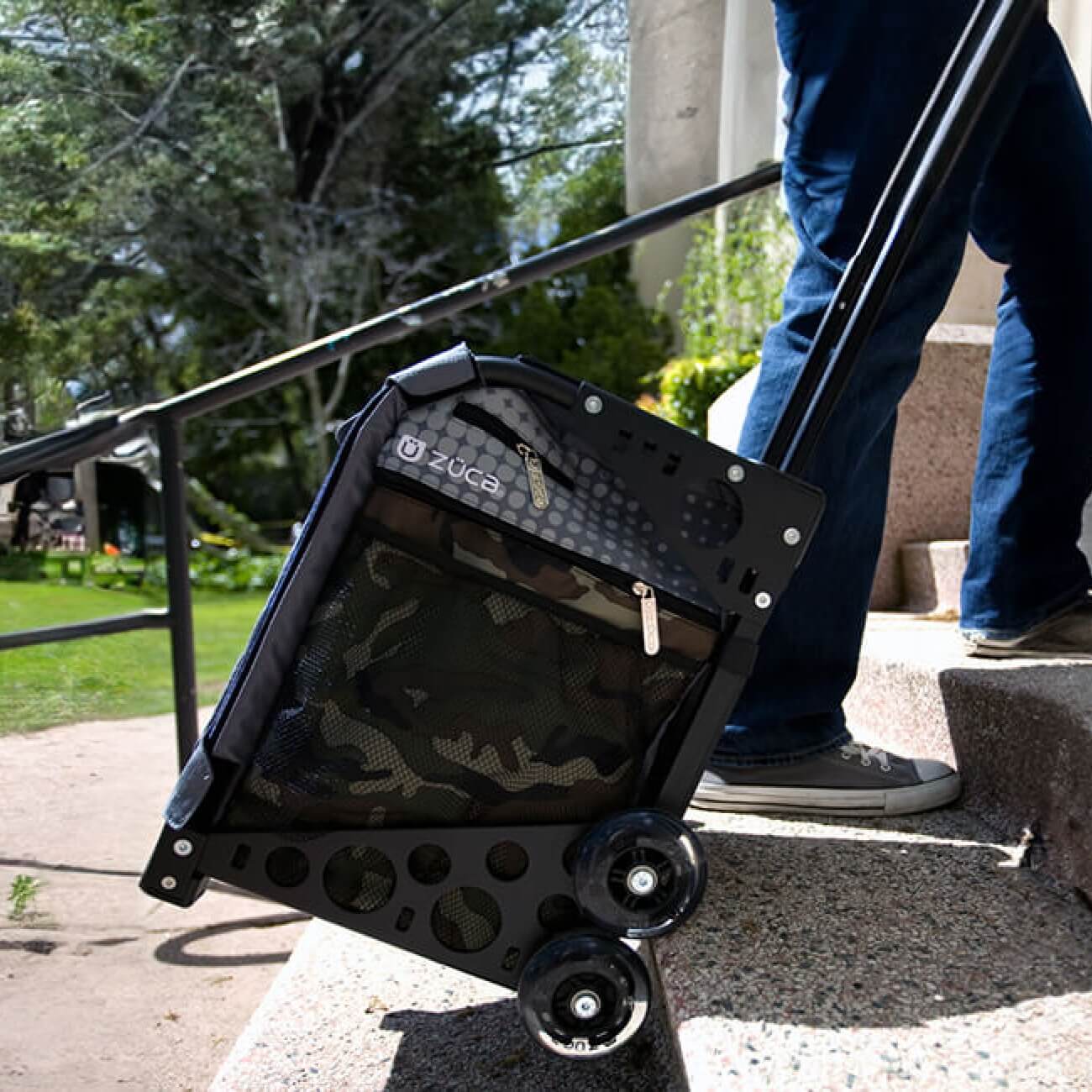 Built to handle its owner.
We even put aircraft aluminum in the handle. That's right, the stuff wings are made of. Unique and nearly indestructible, the handle telescopes to a height of 39 inches.
A true athletic build.
Inspired by aerospace technology, our aluminum alloy frame is light and super strong. In fact, a ZUCA Sport frame is rated to safely support 300 lbs.
Less metal in your diet.
Lighter and still strong. The holes are placed so the strength of a member in tension isn't reduced below its structural contribution requirements. Translation? Holes make it better and lighter.
Your bag should go out more.
Removable. Hand washable. And unlike anything else. The insert is made from a premium water-resistant polyester fabric.
A true social climber.
No elevator? No worries. This dual wheel system climbs stairs and curbs with ease. Better yet, the unique design eliminates all those awful "bag-scrape" sounds.
Roll with the punches.
The 4' polyurethane wheels absorb shock and make for a seriously silent ride. And because each flashing wheel is powered by a tiny generator (magneto), there are no batteries.
Tread lightly.
Made of nylon 6, the plastic feet go easy on scratchable surfaces. They are also tough enough to resist grit and gravel impregnation that can otherwise shred wood floors.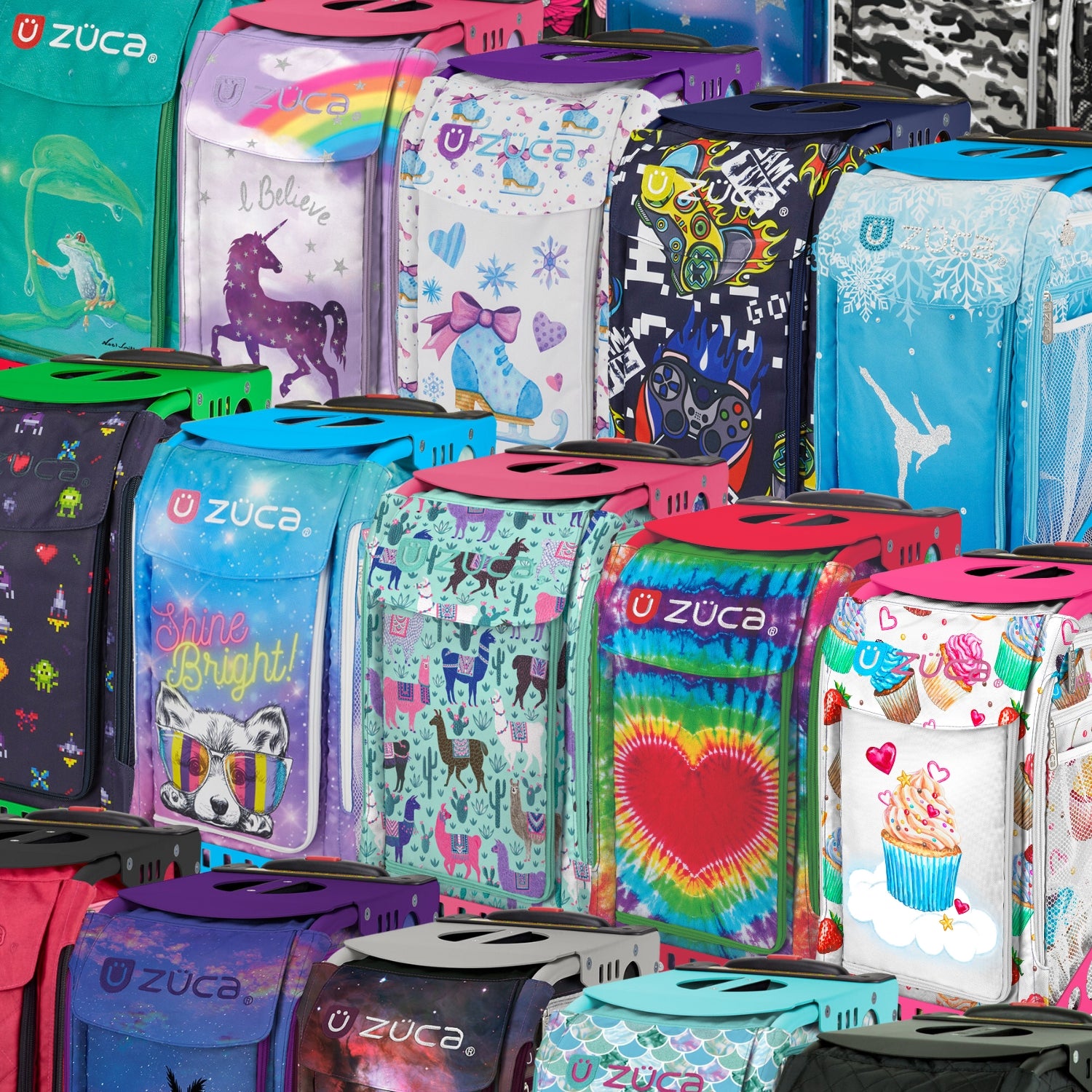 Hundreds of Design Combinations
Why be generic when you can be yourself? With hundreds of design combinations, find the ZÜCA rolling Sport Bag that expresses your unique style.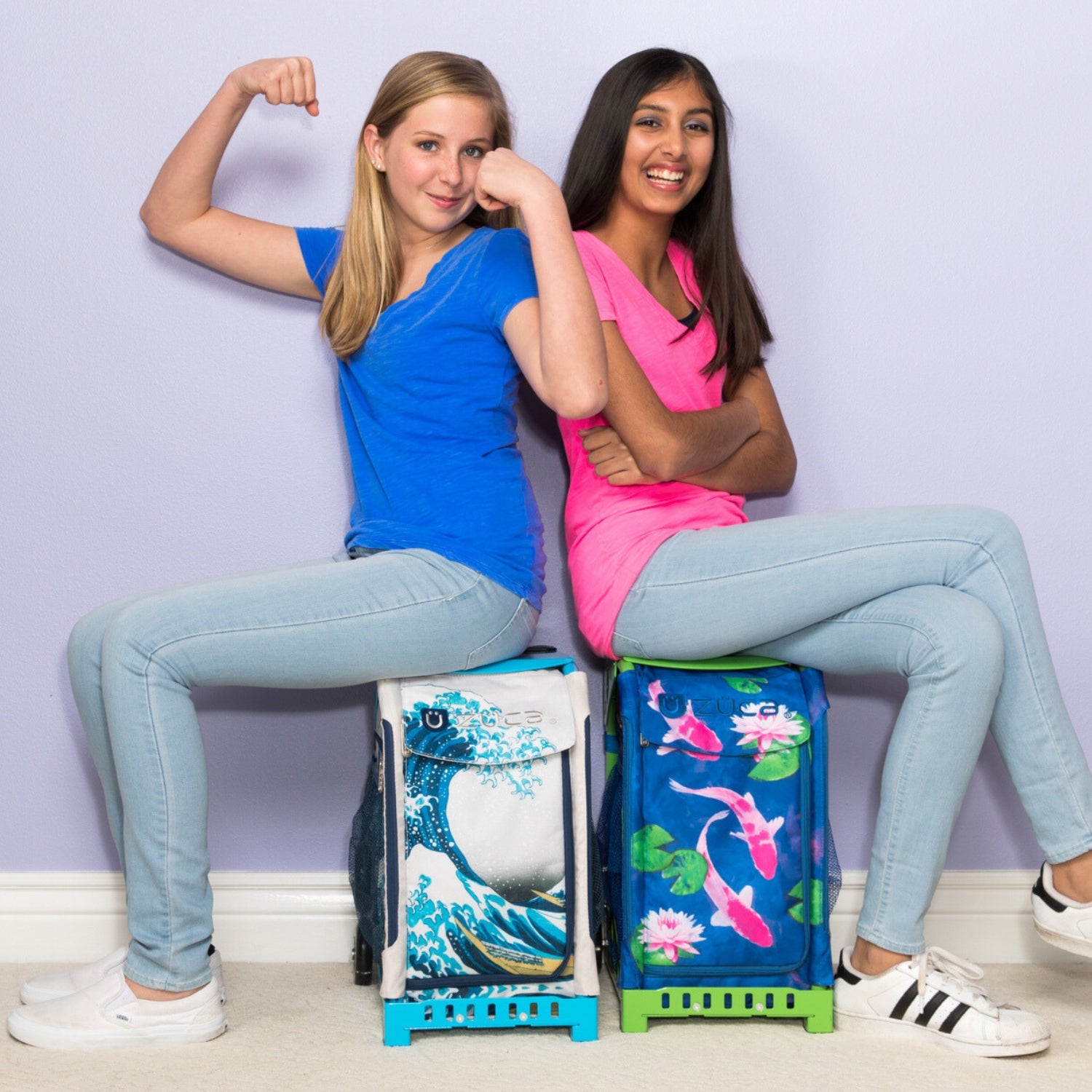 Take the Load off Your Back!
Ditch the heavy backpack and roll into school with A+ style. ZÜCA rolling School Bags help you rule the school while keeping all your school supplies organized without weighing you down.
Shop all School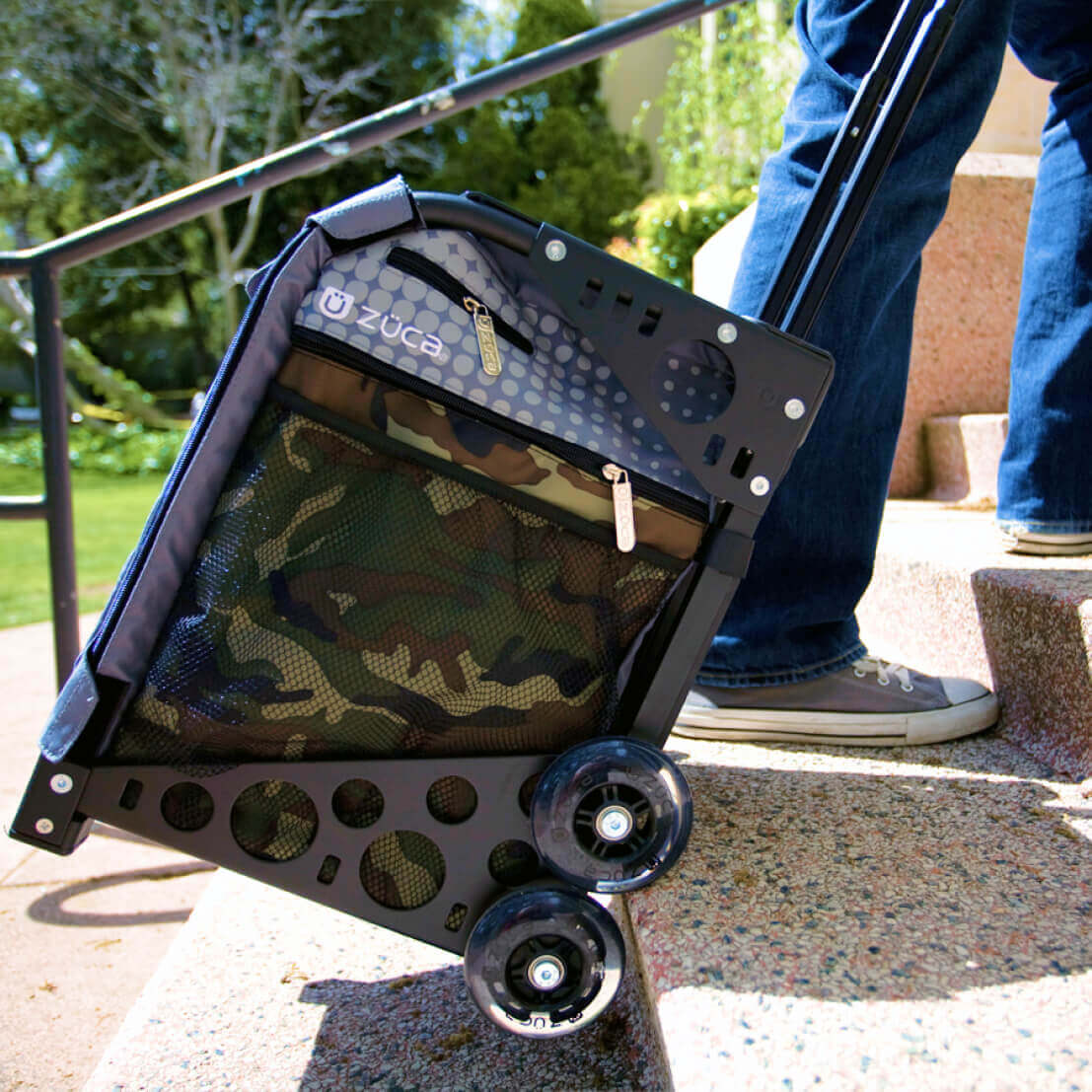 Dual Light-up Wheels Designed to Climb Stairs and Curbs
Light up your world as you roll from place to place. ZÜCA's rolling Sport Bag features heavy duty wheels with flashing lights designed to withstand all the bumps and hurdles of any adventure, including curbs, stairs, and more.
We just received this bag and seat cushion. It is more lightweight than expected - my 8 year old carries it up the stairs easily. The black frame is great since we may eventually change out the insert, though this one is unique and beautiful. We are excited to fill it with all of her skating gear and take it to the rink!
As an artist I'm always travelling everywhere, my 'office' in tow, so this beautifully designed and crafted item is an answer to a prayer! Not only does the bag hold paints, folding chair, sketchbooks, laptop et al, easily accessible in its spacious body, but it's an instant seat!
My son loves the light-up wheels and says it's easier to pull his school supplies instead of carrying them. Oh yeah, and he can sit on it while waiting for me to pick him up from school.
This product has no reviews yet.